You're invited to the Autism Society of Greater New Orleans' Sensory Friendly Santa.
Sunday, December 11th
11:00 AM-2:30 PM
Bad Wolf
1454 Woodland Hwy
Belle Chasse, LA 70037
Register for a time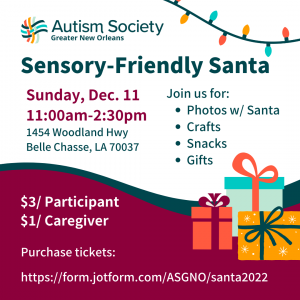 slot during which you can create winter crafts, enjoy a snack, and participate in a photo opportunity with a sensory-friendly Santa. Participants will be limited to 10 per time slot and each participant will receive a gift. Please no more than 2 caregivers/supporters per family. This is NOT a drop-off event, at least one caregiver per family MUST attend.
You will receive a free digital photo with Santa, provided by GM Photography with additional photo packages available for purchase. Tickets are $3 for participants and $1 for caregivers/ supporters. If you are unable to pay for tickets but would still like to participate, please email Megan at eventcoordinator@asgno.org.
To help us make this event more accessible and inclusive for high-risk and immunocompromised individuals please consider wearing a well-fitting facemask or respirator (preferably KN95 or better) to this event. Facemasks can be removed for eating and photos with Santa if you do choose to wear them.
NOTE: Please do not attend this event if you are sick or have any symptoms of being sick such as fever, sore throat, cough, runny nose, nausea, diarrhea, etc. Refunds due to illness are available upon request, please email our Executive Director Claire Tibbetts at info@asgno.org to request a refund if you cannot attend due to illness.
Support this event as a sponsor!
Help us make a fun holiday tradition more accessible and inclusive for our local Autism Community by supporting our Sensory-Friendly Santa event as a sponsor.
Sponsorships are available at the low price of $50-$100 and include the name and logo of the sponsor on signage at the event, and the sponsor logo on the event website. We are seeking sponsors to support the activities and snacks for the event, as well as in-kind and gift sponsors for each participant's gift bag. If you are interested in being a sponsor, please click the button below.
Event Sponsor- $100 (1 Available)
Naming rights to the event
Logo on social media and promotional materials
Activity Sponsor- $50 (5 available)
Sponsor an activity for the event (chosen by ASGNO) such as crafts, additional photo ops, face painting and more!
Sign with your company's name and logo at the activity
Company logo on social media and promotional materials
Gift Sponsor-$50 + 80 items for gift bags (unlimited available)
Company logo on social media and promotional materials
Opportunity to provide a gift to be included in the gift bags
Food or Gift Card Donation
Company logo on social media and promotional materials