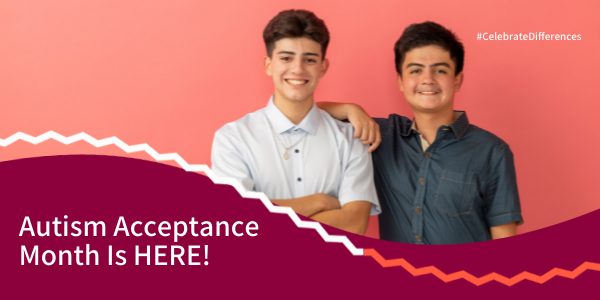 Autism Acceptance Month kicks off on April 1st and the Autism Society of Greater New Orleans invites you to #CelebrateDifferences with us to recognize the multitude of experiences within the Autism community. 
Throughout April, the Autism Society invites Autistic individuals, their families and friends to honor their wide range of experiences by taking time to share stories on social media through the #CelebrateDifferences hashtag. No family or individual's story is the same as any other, and the Autism Society believes the world should recognize the infinite ways the Autism community experiences life.
In sharing our unique stories, we are able to highlight the need for acceptance, inclusion and connections that support people on the Autism spectrum throughout life's journey. 
We believe that acceptance is creating a world where everyone in the Autism community is connected to the support they need, when they need it. And by everyone, we mean every unique individual: the implacable, inimitable, and irreplaceable you.
From Autistic individuals who require 24/7 lifetime support services and their caregivers, to Autistic self-advocates living fully independent lives, acceptance, inclusion and connection are critical to ensuring everyone in the Autism community can access what they need to live to their fullest.
These values can be put into practice in a number of ways. 
In the immediate aftermath of Hurricane Ida, our staff at the Autism Society of Greater New Orleans worked tirelessly to ensure that Autistic individuals and their families who were impacted by the storm had the support and resources they needed.  We ran a grant program that distributed $10,000 directly to families and individuals within 48 hours after the storm to fund the purchase of essential supplies, or evacuation costs before any other financial support was available.  
Our Administrative Manager Claire Tibbetts also ran our helpline via text message to assist families remaining in the area with limited communication ability.  She assisted individuals in finding gasoline for generators, food distributions, camp stoves, financial resources, and prescription medications.  The Autism Society of Greater New Orleans also arranged for food and water deliveries directly to Autistic individuals and families who were unable to travel to distribution sites around the city through a partnership with NOLA Ready.  These food distributions provided needed supplies to improve outcomes and keep individuals safe during the aftermath of the storm.  
"I was so surprised to have food brought to me, I'm not used to being taken care of, it's new for me.  Thank you so much for everything you guys do, it feels like love, so thank you." -Nancy, Autistic adult.
"The Autism Society of Greater New Orleans was one of the first community organizations to reach out and communicate the need for home food deliveries to the community members they serve. Without the vital role the Autism Society plays in the community, the city and its partners would not have been able to connect with, locate, and coordinate delivery to people who, for one reason or another, needed better access to food services after Hurricane Ida." Peter Edmondson, NOLA Ready
"It was absolutely devastating to hear the stories from those individuals who had to remain in the city during the storm because they were unable to evacuate who reached out to us for help.  I knew on the Monday after the storm that we had to do something, so I texted our board members and we very quickly were able to approve the grant program and create the application. I truly believe in our mission, and in the importance of our work to connect everyone to the support they need when they need it whether that is in an emergency, or just every day.  I strive to provide the utmost care and highest quality of support to everyone who contacts us for help."  Claire Tibbetts, Administrative Manager, Autism Society of Greater New Orleans.
Because of our quick action and tireless effort, we were able to provide targeted support appropriate to the unique needs of each individual for over 50 households in the area in the week after the storm.
At the Autism Society of Greater New Orleans, everyday is Autism Acceptance Day. Our work is dedicated to all those in the Autism community with the supports, services, resources, advocacy and connections that empower people to live to their fullest.  
This April, we'll be sharing stories, information and resources that can help everyone discover how they can be the connection. Join the Autism Society during Autism Acceptance Month to #CelebrateDifferences. Together, we can create the connections that empower everyone in the Autism community with the resources needed to live fully. 
Get involved this month by sharing our social media posts, hosting a Facebook fundraiser for our organization, donating directly to support our programs, or downloading and sharing our educational materials with your friends, family, coworkers, and local businesses.  
AAM_WhatisAutism_Flyer-Digital
AAM_WhatIsAutism_Infographic-Digital